Platform Credentials
Once your account is funded and funds are reflected in the client portal, please contact operations@centerpointsecurities.com to request your trading platform.
How to Download the Platform
You can download the latest version of DAS Trader using this link.
The iDASTrader mobile app can be downloaded from the iOS App Store or Google Play Store.
Mobile Platform Setup
After you download the mobile app, enter the following settings to finalize the setup: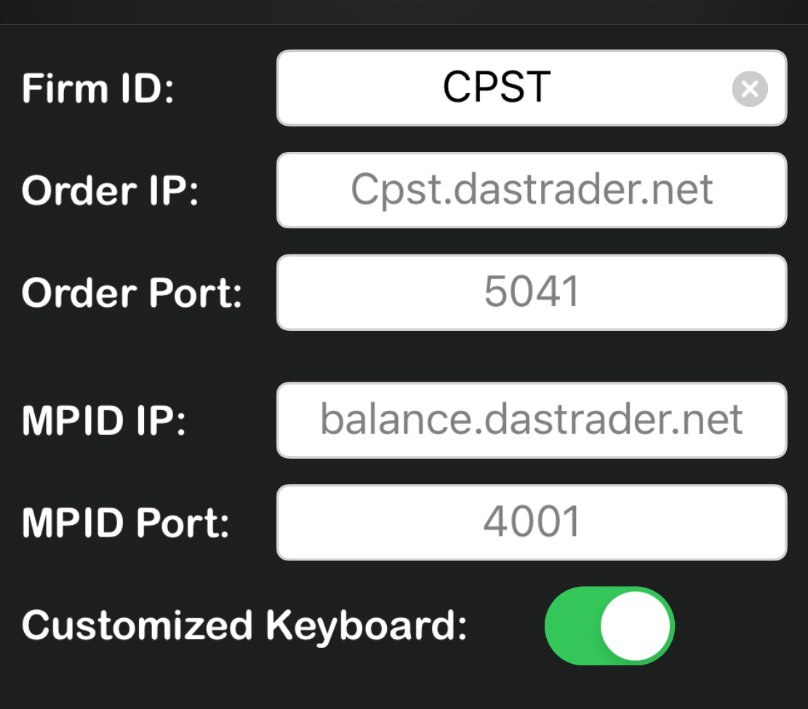 Subscription and Data Fees
Click here to view platform pricing. 
Platform Tutorials
Click here to view platform tutorials.
Common Questions About the Platform
Find answers to the most common questions about the platform.
How do I run DAS Trader Pro on a Mac?
DAS Trader Pro is a Windows based program only.  You can run it on a Mac by booting into Windows using Bootcamp, or a virtual machine like Parallels or VMWare Fusion, but it will not run natively on Mac. Please note that DAS Trader PRO is intended and fully tested to be used in a Windows environment and the use of DASTrader Pro on a Mac OS is at the user's risk. If you still need to use DAS Trader Pro on an Apple computer, below are the different options to run DAS Trader PRO in a MAC environment:
Installing Windows on your MAC using Parallels Desktop. This is the most stable environment and supports dual monitors. Learn more here.
Run Windows at native speed using Bootcamp environment. Apple and most MAC users seem to endorse this framework as stable for most applications and it's free. Learn more here.
Running DAS Trader PRO on a cloud based virtualized desktop or a native virtualized Window's environment.
The most robust of the two virtualization environment is VMWare Fusion since it is a native virtualized environment on the MAC. For that reason it is quite stable, fast and scalable.
Here is a tutorial for setting up VMWare Fusion and DAS.
How do I modify my platform/data subscription?
To modify your subscription, add data feeds, or temporarily pause your subscription, please email our support desk.
How do I get my platform fee waived?
The base subscription fee ($120/month) will be waived for clients trading over 200,000 shares per month.
Check out the official DAS Trader documentation for the most in-depth platform guides