Incredibly Powerful Trading Platform
CenterPoint Securities offers a powerful trading platform designed specifically with active traders in mind.
DAS Trader Pro
DAS Trader Pro is a professional trading platform with advanced order types, charting, and multi-account management in a real-time environment.
Real-Time Account Management
Supports Multiple Monitors
Collocated Order Executions
Regional, Totalview, ARCA, and BATS book
Direct Market Access Order Routing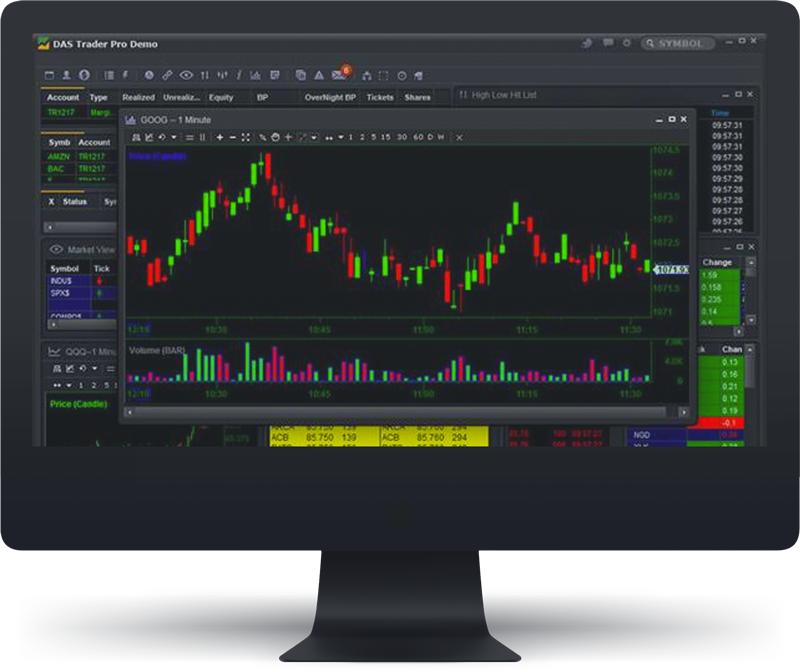 Platform Details
The DAS Trader Pro trading platform provides professional level access and data for many exchanges like Nasdaq, NYSE/ARCA, Direct Edge, OTC markets, and BATS demonstrating a robust set of tools for traders. DAS Trader Pro also supplies market access and FIX connectivity for every top exchange, all while offering co-location to the most important data centers. They also offer order routing that has high-latency sub-millisecond sensitivity to over fifty destinations. Clients will gain access to every NYSE floor broker and routing tactics for exchanges, ALGO, dark pools, and liquidity providers. The user-friendly software provides traders with advanced features such as fast trade executions, market access order routing, advanced Level 2 and real time stock charting capabilities among others. Reliability is at the core of the DAS trading platform and designed for optimal performance so traders can trade with confidence. A browser based and mobile version is also available and provides traders with the flexibility that is expected in an advanced trading platform. Having received accolades from impressive awardees, like the NYSE and the Nasdaq, they are captivating many traders and brokers thanks to their exceptional service and product offering. With real-time data feed technology, managed and hosted solutions, and a responsive team that aims to offer only the best, the DAS Trader Pro platform is an excellent option.


Does the platform work on Mac computers?
The platform is Windows-based. You will need to install Bootcamp or Parallels to run the platform on Mac computers.


Can I test out the platform?
Yes, you can take a 14-day free trial of the platform 
here
.


Do you offer a mobile trading platform?
Yes. CenterPoint clients have access to iDASTrader.


How much does the trading platform cost?
DAS Trader Pro is available for $120/month. You can find the complete list of platform and data fees 
here
.