For initial account funding:
We recommend sending a wire transfer to be able to trade the same day or the next day when funds are deposited.
If you prefer to use ACH, there is a 5 business day waiting period before you are allowed to trade.
Deposit Funds and Withdraw Funds via ACH
To deposit funds via ACH, navigate to the Funds Transfer page from your client portal.
If you have already linked a bank account, select either "Deposit" or "Withdrawal", set the amount you'd like to transfer, review the transfer, and confirm.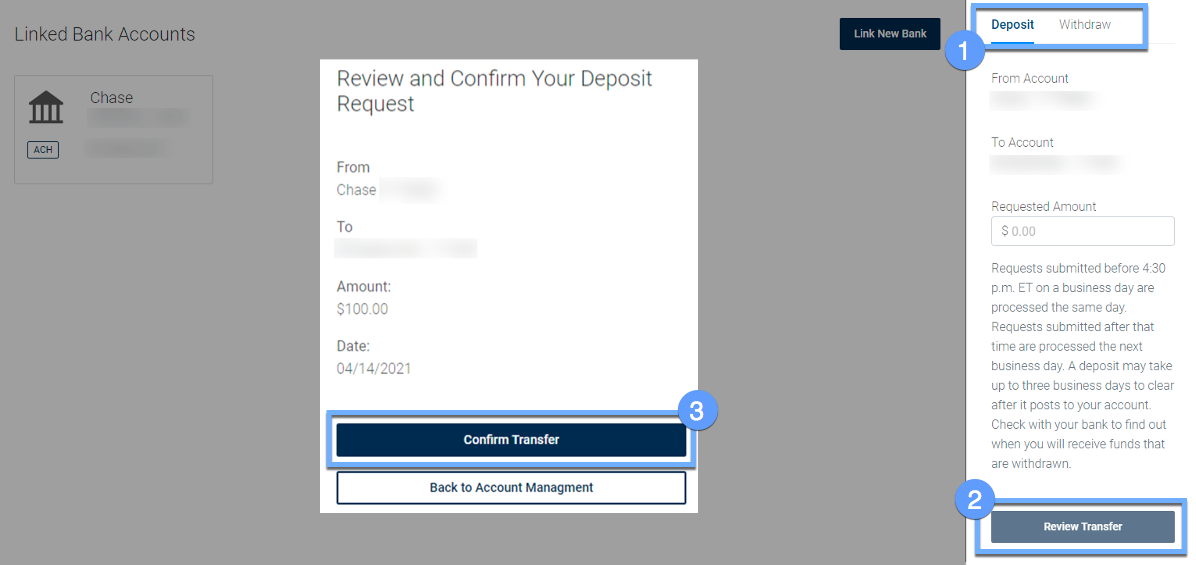 If you have not linked a bank account yet, follow these instructions to link your account.
Deposit Funds and Withdraw Funds via Wire Transfer
To deposit funds into your account, log in to your bank account initiate a wire transfer. Here is the information you will need:
ABA/Routing Number (for US clients): 071000288
SWIFT Code (for International Clients): HATRUS44
Recipient Account Number: 2657195
Recipient Name: Clear Street LLC
Recipient Address: 4 World Trade Center, 150 Greenwich St Floor 45, New York, NY 10007
Wire Details/Message: [Your Full Name] FBO [Your Account Number] (example: "John Doe FBO 12345762")
To withdraw funds from your account, please fill out the Wire Request Form and email the completed form to cashiering@centerpointsecurities.com. Please include your CenterPoint account number in the email.
Fund transfer requests submitted before 12:00 PM EST will be processed the same day. Requests submitted after 12:00 PM EST will be processed the next business day.
Note: There is a $25 wire transfer fee for outgoing wires.
Common Questions
Below are answers to some of the most common questions about money transfers. Please reach out to our support team if you have any issues or concerns.
How long does it take for funds to clear?
It generally takes 1 to 3 business days for funds to clear.
How do I track my wire transfer?
You can check the status of your wire transfer from your bank's website or mobile app. Once the wire is complete and we receive the funds, they will appear in your trading account.